STAYING AT HOME VERSUS SENIOR LIVING
Help with a complex decision
We understand the concerns that come with moving and want to help families overcome uncertainty and discover the many benefits of vibrant community life.
Find a community near you
Why a move makes sense
The freedom to participate, grow and engage in what brings you purpose and joy often starts with the right care. Whether you want to be free from the stress of maintaining a home, could use some discreet daily support or require more specialized care, we offer living options tailored to your physical and emotional needs.
Home
Difficulties participating in activities with others; at risk of isolation from friends.
Senior Living
The warm company of peers; abundant cultural, social, spiritual fellowship, educational and entertainment opportunities every day.
Home
Reliance on other's availability to get to and from appointments and events.
Senior Living
Scheduled car or bus service always available for appointments and outings.
Home
Eating alone; prepackaged meals; difficulty following special dietary guidelines.
Senior Living
Dining with neighbors; table service; freshly prepared, nutritious cuisine; accommodations for many special diets.
Home
Difficulty with daily chores and household maintenance.
Senior Living
Housekeeping, linen service and maintenance provided by professional staff.
Home
Anxiety over whether help is easy to contact and will be available immediately.
Senior Living
An emergency alert system in each apartment; a 24-hour staff ready to assist.
Home
Limited or no access to adequate exercise programs and equipment.
Senior Living
Daily fitness opportunities available to help increase mobility, strength and overall wellness.
Addressing common concerns
Here are some tips to help address many of the concerns older adults and their families often express when considering a move to a senior community. The information in our "You can't keep working around it forever" brochure (PDF) offers advice on how to start the conversation.
You've likely recognized some serious shortcomings with your current living arrangement, and that's why you and your family started searching for something different. You may have reached the point where your house has become too much for you to handle by yourself. At Atria, there's a whole staff to take care of cooking and cleaning.
Even though 24-hour home health is more expensive than moving to a senior living community, many families choose it because they're overwhelmed by the thought of a move – not because it's the best solution. There can be so much more gained from choosing a vibrant assisted living community where you can escape the isolated home setting and not only live, but thrive.
The fear of losing their independence is the number one reason older adults are concerned with moving to a senior living community. But consider how independent you are now. You may not be able to drive or move around on your own, or you may need assistance with everyday tasks.
Think about what could be gained from a move. A private apartment at Atria is similar to a new condo, only better. Atria provides delicious dining on-site, engaging events and opportunities for meaningful connection. If you feel like relaxing in your apartment and watching TV, you can do that, too. Scheduled transportation is available for your appointments and activities outside the community. Residents often tell us they have more options for interaction, personal growth and entertainment than before – and they can participate as much or as little as they choose.
Living with the uncertainty of how an older adult is coping on their own day-to-day can be very stressful. Don't risk waiting and potentially having to react to a crisis that could end up being far more costly. Our assisted living options provide 24/7 care that gives you the peace of mind knowing that regular meals, medication reminders and a helping hand are always available.
Crises-driven responses cost a lot of money, so choosing senior living early may actually be one of the best ways to protect your finances. Living at Atria can reduce crisis risks and provide immediate support when it's needed. It can also be more affordable than you think – use the helpful resources on our Financial Planning page to determine the costs and explore opportunities for financial assistance.
Consider a short-term stay. It's a wonderful way to explore everything our vibrant communities have to offer and you'll gain more confidence in knowing what to expect with the move. As daily tasks are taken care of, you have more time to enjoy engaging events and amenities – so it's the perfect opportunity to discover if Atria is the right fit for your lifestyle.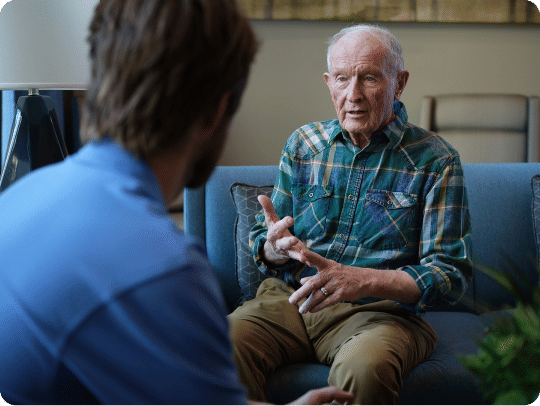 Compare your options
Atria offers helpful guides that make it easier to keep track of the important aspects of your senior living options – use them to choose the type of community that's the best fit.
Sign up for our monthly newsletter
Receive senior living resources, current offers, event invites and more.