Atria Senior Living dining
Savor every day
Sharing delicious meals with family and friends is a delightful way to form meaningful connections.
Flavorful senior living menus
Atria understands the importance of providing flavorful and nutritious meals. But we also know that camaraderie and good conversation feed the heart and soul. That's why our dining venues are designed to bring people together to enjoy healthful options and each other's company. Breakfast, lunch and dinner are served fresh in the dining room every day. And for special occasions, we are delighted to host a catered celebration for you and your family in the private dining room.
Find a community near you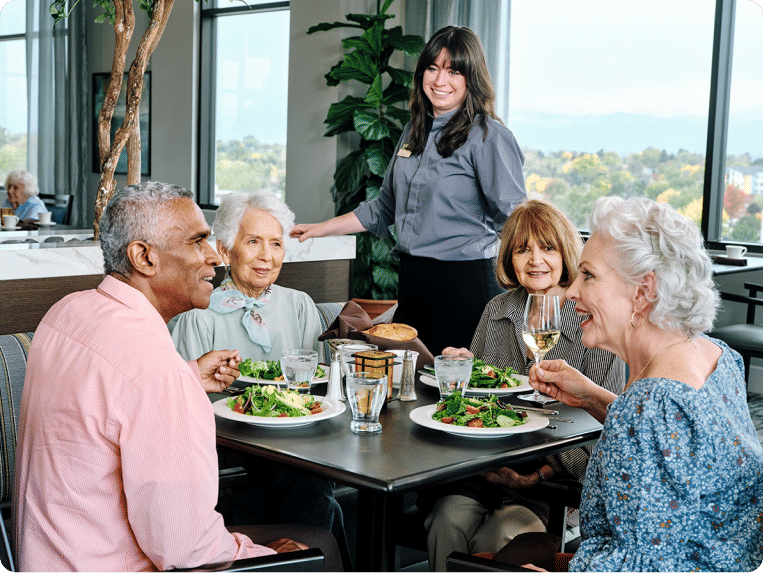 A fresh approach
Every day, our chefs devote themselves to crafting unique culinary experiences based on residents' personal tastes. Nearly everything is made from scratch using fresh, locally sourced ingredients whenever possible. Many meal options accommodate low-sodium and no-concentrated-sweets diets.
Knowing that quite a few residents are also expert cooks, we welcome them to share their cherished family recipes with us.
More ways to whet your appetite
Atria celebrates the joy of sharing good food with a variety of popular culinary programs.
From special holiday menus to numerous themed happy hours throughout the year, our chefs create inspired new dishes while continuously sharpening their skills.
Many of our residents are gifted cooks, but there are always new tricks and trends to learn in the kitchen. Our educational and healthy eating events cover a variety of cooking topics, including special preparation techniques, exploring new styles of cuisine and the nutritional benefits of choosing healthier ingredients.
Nothing brings a community together like warm food and fellowship. Our culinary staff supports local vendors and uses their fresh ingredients whenever they can. We also invite these vendors to visit our communities to share their offerings.
We love hearing (and tasting) new perspectives from within the larger culinary community. That's why we invite guest chefs to show off their talents for residents. Whether hosting a culinary team from one of our sister communities or inviting resident family members to display their skills, our guest chef events are always a delicious time.
Spanish tapas, Japanese sushi, Indian curry – the world is full of flavors, and we make it a point to bring many of them to our communities. Our global cuisine selections vary throughout the year and offer residents the opportunity to explore new tastes and styles from countries around the world.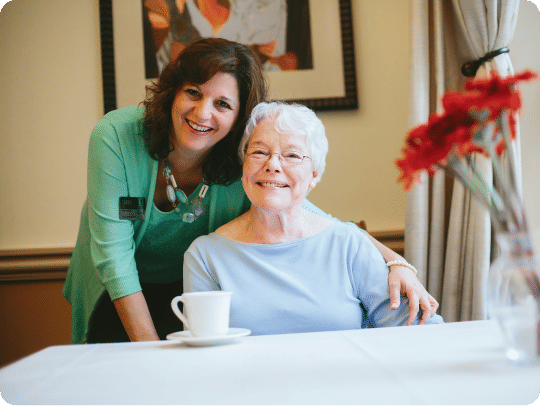 A commitment to quality
At Atria Senior Living, everything we do is driven by quality in order to create the best possible home for residents. To deliver on that promise, we created the Quality Enhancement program to help ensure that every aspect of community life is up to our standards.
Sign up for our monthly newsletter
Receive senior living resources, current offers, event invites and more.