ATRIA SENIOR LIVING FINANCIAL PLANNING
Is senior living a wise investment?
When you consider the expenses associated with living at home, senior living may cost less – with the additional benefits of chef-prepared meals, housekeeping and social connection.
Get started on your financial planning
For most families, cost is a key consideration when weighing the benefits of senior living community. The following information makes it easier to understand the costs involved with living in an all-inclusive senior living community that provides personalized care, how these costs compare to living at home and how to develop an affordable financial plan.
The Atria Financial Services Brochure (PDF) provides a general overview of financial planning and long-term care insurance. Our blog article, "How much does it cost to live in a senior living community?" provides additional insights.
Atria's monthly individual rate plans are determined based on apartment selection plus care services (if any are needed).
To determine the level of services needed, each resident receives a thorough assessment from a licensed nurse of their physical, emotional and functional status prior to move-in. During the first 30 days, a reassessment will be performed to verify that we are providing the appropriate level of care. Thereafter, additional assessments are performed no less than quarterly or as needed based on caregiver recommendations or a perceived change in condition.
These assessments help determine the amount of time and level of assistance a resident may require. The rate can be adjusted as needs change. This way, each resident receives the appropriate amount of personal assistance needed to remain as independent as possible.
Tax deductions can be useful in balancing the costs of senior living. Depending on the type of services and level of care required, older adults may be eligible for certain deductions on their federal tax return.
The IRS allows deductions for the costs of housing and meals for qualifying seniors receiving long-term care in a home or community due to chronic illness or the inability to live alone. Assisted living or supportive living residents may qualify for these deductions if a physician certifies that they have been unable to perform at least two activities of daily living (such as eating, bathing or getting dressed) without assistance for at least 90 days. The same deductions can apply to those who require substantial supervision because of a cognitive impairment, such as Alzheimer's disease.
A child paying for a parent's care may also qualify for the tax deductions if the child can claim the parent as a dependent.
Our brochure, A Guide to Senior Living Tax Deductions (PDF), provides more details about how these deductions may apply at Atria. While we are happy to provide this introduction to the possible tax benefits of senior living, we encourage you to consult a tax advisor for further information.
If you're a veteran or the spouse of a veteran, you may qualify for the Veterans Affairs Aid and Attendance Pension (also known as the A&A program). This pension helps veterans and their surviving spouses who require the assistance of a caregiver who helps with activities of daily living, including bathing and getting dressed.
Assisted and supportive care in a senior living community – whether provided by community staff or a third party – qualify as part of this program.
Atria is proud to be home to more than 2,500 veterans and 50+ home front workers, many of whom are using this pension to help pay for care services in our communities across the country. The Veterans Affairs Aid and Attendance Pension (PDF) brochure provides more details about this pension and how to determine if you qualify.
Looking for a different location?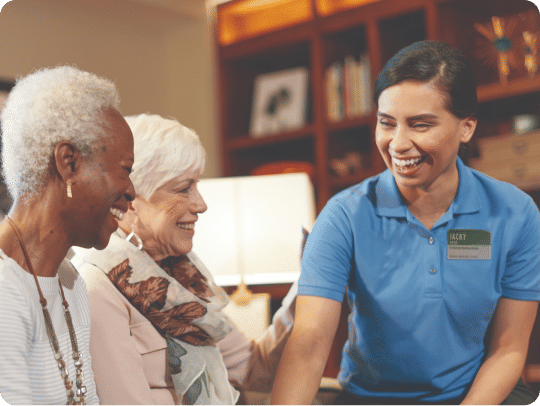 Compare your options
Atria offers helpful guides that make it easier to keep track of the important aspects of your senior living options – use them to choose the community that's the best fit for you.
Sign up for our monthly newsletter
Receive senior living resources, current offers, event invites and more.